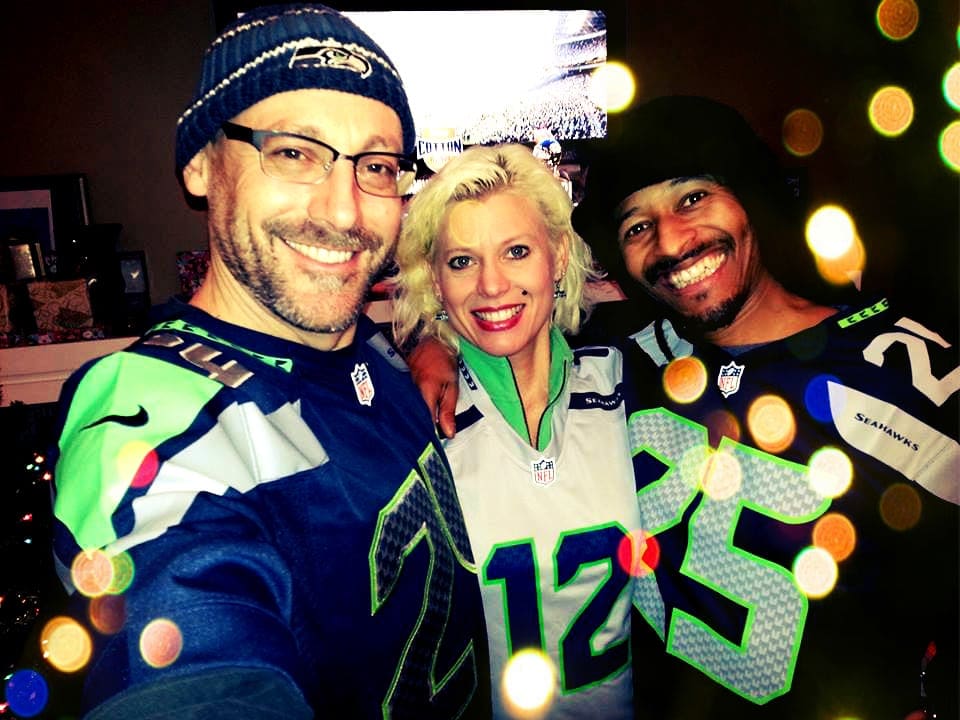 The 12th Man(Diva) rumble started this last fall. The first sign that Sundays were changing came around last October as the Seahawks were on a winning streak. I was hosting an open house in one of my favorite condo buildings The Plaza Del Sol. The inventory was low. Condo looked great. First weekend on the market. The open house should have been hoppin'. The condo is also over CCs in Seattle's gayborhood Capitol Hill. Not a big deal. I'm friends with a lot of those bears and they are darlings to work with at the Plaza Del Sol. This particular Sunday CCs went from a quiet older gay man's bar to a crazy rumble that it shook the floors in my open house. And to top it off not a single person showed up to the open. Not one. Weird!
Other signs of that Seattle has become Seahawks country —> New clients asking me if we were going to be finished in time for the game. Diva team member Roy normally comes to Chez Diva on Sunday's to work in the art studio. Last fall he started hanging out in his car until the game was over so he wouldn't miss a single part of the game. And the best yet my friend Sheryl was pissed when her best gay friend (and our mutual friend) Karl decided to host his birthday brunch during a Seahawks game. Sheryl went but she made it clear she would be wrapping brunch up quickly and returning to Seahawks country!
Kim and I are still in New York City wrapping up a Real Estate conference – Inman Connect. As anyone who is not living under a rock should know our Seattle Seahawks are one step away from the Super Bowl. And yes – I'm scanning the interwebs for a place that I can watch the Seahawks game with like minded fans (speak up if you know a place). I'm sending out a slew of text messages to my Seattle ex-pats to meet up at a Diva-Dive-bar so we can watch the game with our peeps. Yes – I know NYC is filled with great food, art, etc. But seriously!
Divaland has become Seahawks country!