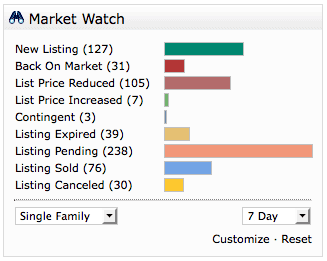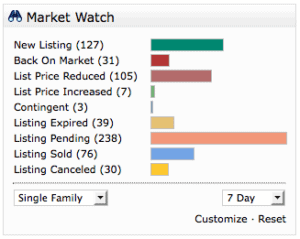 One of the biggest question we get from our clients is "What is the market doing? Are we improving yet?" Well if January is any indication of how the rest of 2012 is going to go then I say "We are on our way!"
The best way to clarify our answer is to look at the inventory in Seattle and where we see movement. During the last week only 127 homes came on the market as "new" listings. The majority of these homes were taken off over the holidays and are now back on the market. The number of homes that went under contract in the same time period was about 238. Basically this is indicating that there are way fewer homes on the market than meets the current demand. Now let's look at that Demand rate.
Diva HQ Demand Rate
January has been a whopper of a month for Team Diva. Here at Diva Headquarters we have eight homes under contract and we are only in the third week in January. This exact same time last year we had ONE. That is just what we are experiencing, and as you know its different for everyone.
Let's take a closer look at what we call the Demand Rate. Demand Rate indicates how many buyers are in the market for every home that is listed. On Capitol Hill we have averaged around six to nine months of inventory for condos. Or one buyer for every nine condos on the market. Right now the demand rate is hovering around 1.68. Basically that is one and 2/3 condo for every buyer. We like the look of those numbers!
Seattle Demand Rate
All of Seattle: 1.76
All of Seattle without Distressed Homes: 2.65
Seattle Residential Homes: 1.54
Seattle Condos: 2.4
Back to the question – What is the market doing?

Buyers: Overall we are moving into a more positive environment. As a buyer I would recommend being aggressive if you are looking in the core Seattle neighborhoods. These would be Ballard, Wallingford, Greenlake, Bryant, Capitol Hill, Admiral Area of W. Seattle, Columbia City and the always super popular Central District. It's been a real estate desert in these neighborhoods. Nothing new has come on market this entire January. And when it does, it's snatched up quicker than a Drag Queen applies lipstick.

Sellers: As for sellers, I would personally suggest you only sell your home if it gives you the opportunity to buy a larger home for your family while prices are still depreciated. 2012 is a comeback year and the only way prices are going to increase is if the inventory remains low. Luckily for all of us it looks like the inventory is going to stay low for quite awhile!
The Seattle Times recently released an article that shows the numbers improving from a national perspective. Check it out and let's keep moving forward Seattle!