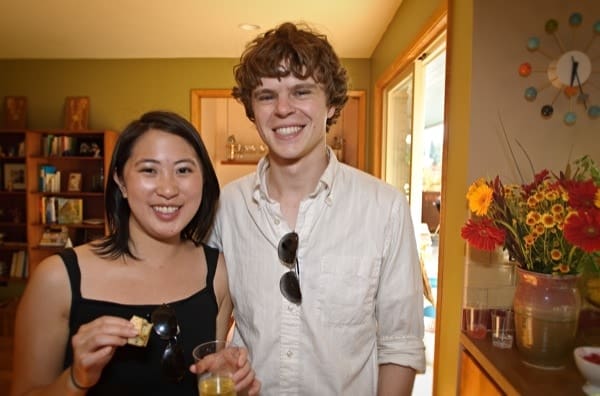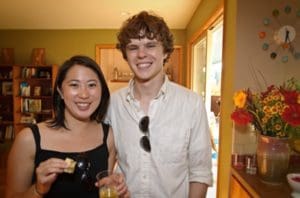 This March we are spotlighting fabulous Diva Dwellers Tom and Jessica in our Diva Wall of Fame. First off – can we just say how smart and sassy Tom and Jessica are? Hanging out with these two, we feel our IQ rise and our street cred escalate beyond what is reasonable for even a Aretha Franklin level of Divaness. At Tom and Jessica's house warming party we met PHD students at the UofW and Brown graduates who are now one of the hottest chefs in New York. Smart folks and a good sense of food and wine is always the right combination for a Diva Dweller!
Tom is a writer and a Chef at Diva Dweller's Karen and Raymond's favorite hood spot Bistro Baffi in Burien. Fabulous restaurant and worth the drive. We are very proud of Jessica's work as a PHD student studying psychology at UofW. We did say super smart right?
The Divas were lucky enough to help Tom and Jessica buy a Green Built Townhome at the intersection of Madrona/Madison Valley/Central District. Here is their story!
How did you meet the Divas? Through Jess's fabulous friend/classmate and fellow Diva Dweller Kim Nelson!
What was your first "OMG" house moment? The first one (for Jess) was at a townhouse in Greenlake that had a jacuzzi and a shower with double shower heads in the master bath, but our real "OMG" moment was seeing the layout of our townhouse. It was everything we were looking for!
What is your greatest home extravagance? Our most recent extravagant purchase for our home was our beautiful 27″ iMac, but Tom would like a $6,000 red Berkel prosciutto slicer.
What is in your junk drawer? You mean junk room? Oh, I mean "office/gym." Cat litter boxes and camping gear.
Would you rather:
mow lawn / paint the fence – paint the fence/town red
untangle computer cords / sort socks – sort socks. When you're down to only one sock, make mismatched pairs
test the smoke detectors / fix squeaky doors – definitely fix squeaky doors. Our ceilings are really high!
plunge the toilet / clean out the refrigerator – clean the refrigerator. It's how Jess finds out that dinner is already made.
clean the gutters / take down holiday decorations – take down holiday decorations. It's sad, but a safer project for us than cleaning the gutters.
What is your favorite Hood hangout spot? Cafe Presse (and Diva Fav) My ideal meal is salade verte and soupe a l'oignon gratinee to start, followed by the demi-poulet froid mayonnaise with pommes frites, and mousse au chocolat to finish.
What is your favorite local organization/non-profit? We have to give a shout-out to FIUTS because we love their mission and the fun parties they throw. We also greatly appreciate the no-kill animal shelters around the city because we adopted two amazing cats from local shelters.
What do you love the most about your house? The other person in it.
Checkout more of Tom's writing at Flat Man Crooked. Tom's is negotiations now for his first book to be published later this year!