The midterms were fierce, locally and nationally, and people mobilized hard. They had to, given how much dark money was pouring into support reactionaries and bigots. And then there was insane voter suppression happening in key races. We're still seeing the effects of that in Florida and Georgia, and whether justice will prevail there is still uncertain.
Some races have turned into recounts. Others will turn into runoffs. Still others will be litigated and left to the courts to decide. People are still fighting hard to ensure that every vote counts, while the GOP tries to disenfranchise voters far-and-wide. We must all remain vigilant, but we are also jubilant. Now that Thanksgiving is just a week away, we're looking back at the results of last week's midterms with optimism.
Big Thanks to Divaland for Turning Out for the Vote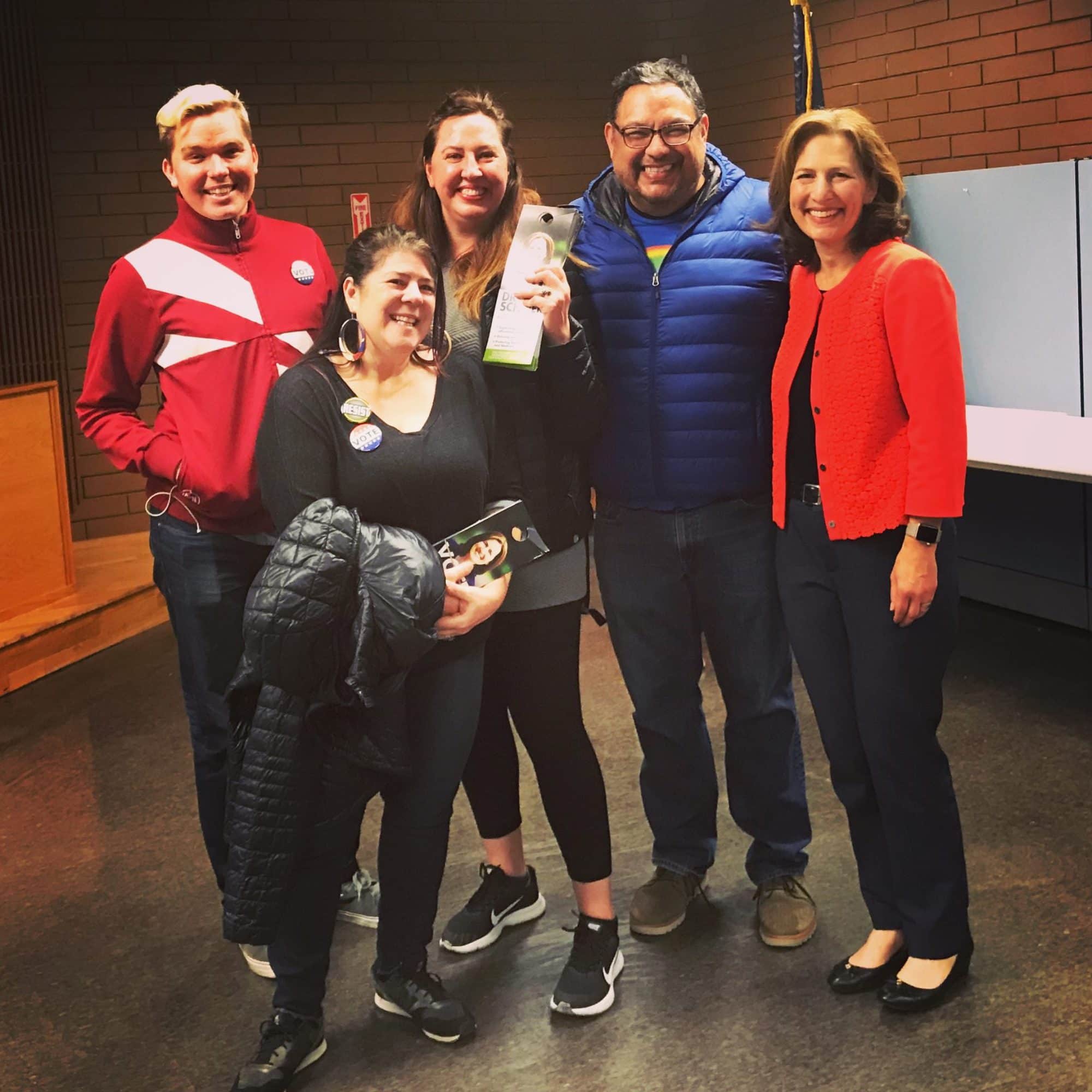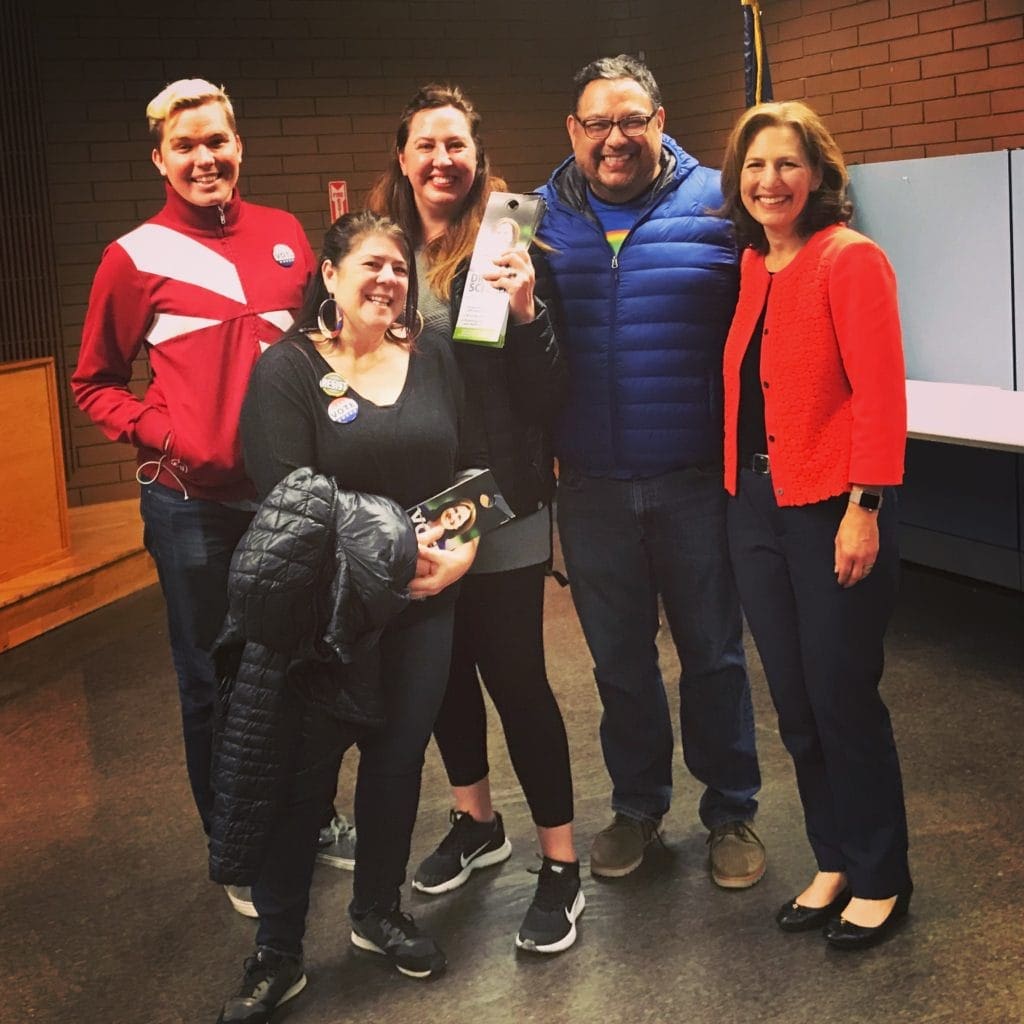 Members of Team Diva and Divaland were volunteering, donating and rallying around the country from Boston to Texas, to right here in Washington State for their Blue Wave faves. In Washington, Divaland hit the phones and streets to support Dr Kim Schrier running in the 8th District and Lisa Brown in the 5th District.
Unfortunately, Lisa Brown did not prevail against the Republican incumbent, Cathy McMorris Rodgers. The 8th District is a different story. This seat was held by Republicans since its inception in 1983, and was vacated this year by Rep Dave Reichert. The GOP candidate, former state legislator Dino Rossi, was well-funded by the NRA, big oil, and Trumpist millionaires. Not only did Representative Elect Kim Schrier win the seat…she cleaned UP!
Maybe people got fed up with the nasty anti-Semitic and deceptive ads the opposition ran about Schrier. Maybe people are just completely (and rightfully) tired of Rossi's smug, reactionary garbage. Early polls did not have us very optimistic, but that's why we all fought hard to get out the vote and make history in the 8th District.
To everyone who got out there and pushed hard for their candidates in the midterms, we offer big thanks. When Dr. Schrier begins her service in the House of Representatives next year, she'll be one of many women (and doctors and scientists!) replacing conservative career politicians. This is how democracy is supposed to look!
Some of the National Races That Went Blue
We are pleased to say that many of the tight races we were watching for these midterms were part of the #BlueWave. Here are some results that thrilled us.
GOP Incumbents Lost to New Faces Across the Country
In California, 5-term Republican Rep Dana Rohrbacher lost to affordable healthcare advocate Harley Rouda. As one of Putin's most prominent manservants on Capitol Hill, Rohrbacher can take some time to relax before he is subpoenaed by the Mueller investigation.
Democratic newcomer Conor Lamb had an interesting race to win; he won a special election earlier this year, only to face off against another incumbent Keith Rothfus after the state's redistricting. Lamb prevailed, and Rothfus is headed home, where he'll surely stay salty that "the gays" can get married. But Rothfus and Rohrbacher aren't the only notorious, anti-LGBT bigots to go bye-bye after the midterms…
Proud deplorable Kris Kobach lost his bid for the governor's seat in Kansas. He gained notoriety shortly after Trump's election, when 45 appointed Kobach as "Vote Fraud Czar." Of course, after making big threats, he failed to find any actual voter fraud on the Dems part. (Surprise!) Democrat Laura Kelly defeated him, and she has already vowed to reinstate protections for LGBT public employees that former Governor Brownback removed.
Historic Elections for LGBT Candidates
Check out Colorado's new first family:
LGBT candidates made a strong showing in races around the country. In Colorado, Jared Polis became the first openly gay governor in U.S. history. Meanwhile, Congress saw a number of LGBT firsts.
Part of the belated good news this week was confirmation that openly bisexual candidate Kyrsten Sinema beat Martha McSally in the run to replace Republican Senator Jeff Flake of Arizona. Flake grabbed the spotlight consistently by speaking out against Trump—and then doing nothing to actually stop his destructive agenda.
We're thinking that Sinema will be much more than talk when it comes to the resistance. (Hopefully her win will help boost more action from fellow Democratic Senator from Arizona, Jacky Rosen, who also just won re-election.)
Meanwhile, Sharice Davids won in Kansas and sent a clear message to the bigots by giving her wife a big smooch during her acceptance speech. That's right: A kickboxing, lesbian, Native American woman beat a white male Republican incumbent in KANSAS. This prompted shrieking arch-bigot Ann Coulter to tweet herself into a glorious takedown.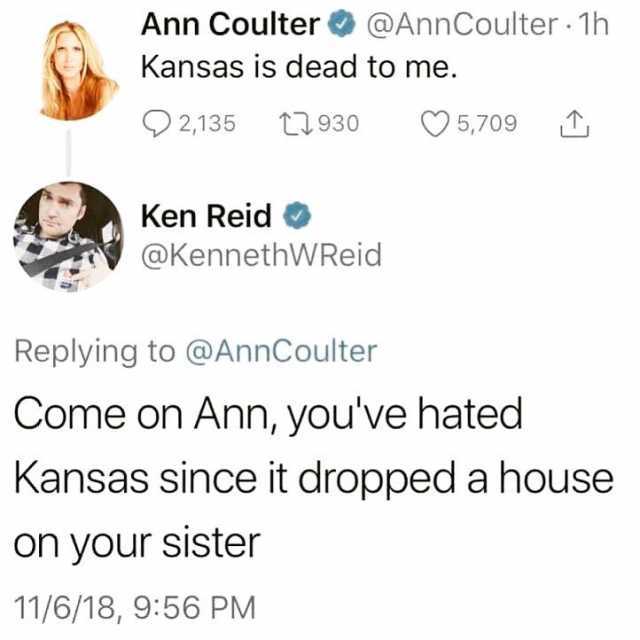 Women Candidates Made it BIG
Sharice Davids isn't the only Native American rep going to Washington after the midterms. Deb Haaland won her race for the 1st Congressional District in New Mexico. Michelle Lujan Grisham vacated that seat to run for the governorship—and she won, too! Haaland and Davids together are the country's first Native American Congresswomen. About time!
Iowa's midterms were another feminist highlight. Young state representative Abby Finkenauer ousted Rod Blum, who managed to disgrace himself one last time with a late, desperate, racist ad. Cindy Axne beat Republican incumbent David Young. Axne and Finkenauer are the first two women U.S. Representatives from Iowa in the state's history. About time, part two!
Several important Florida races remain too close to call, but Debbie Mucarsel-Powell is the certified representative-elect of Florida's 26th district. She unseated Carlos Curbelo, who had flipped the seat red in 2015. Back in blue, baby!
Science and Health Win Big
People with real scientific knowledge are woefully under-represented in Congress. That is one of many reasons why anti-environmental, anti-choice, ant0-healthcare lobbyists are so influential. In the midterms, we saw lots of Democratic candidates with REAL knowledge and experience in science and medicine. We already mentioned Washington's own Kim Schrier, but there are others of note.
Ocean engineer Joe Cunningham got votes from even longtime Republicans because of his commitment to stop offshore drilling in South Carolina. In the pro-environment camp, there's also clean energy entrepreneur and biochemist Sean Casten. He ousted Republican incumbent Rep. Peter Roksam in Illinois.
Also in Illinois, we're over the moon for Lauren Underwood. She's a registered nurse AND the youngest black woman ever elected to congress. Underwood is a perfect example of the vitality and vision that we want to see defining the Democratic party in years to come.
Excited to get to work alongside new colleagues like Kendra Horn (Oklahoma's 5th District). So honored to walk onto the floor of the House as your congresswoman-elect — teared up during the Pledge of Allegiance ? pic.twitter.com/ynOJMlgzaJ

— Lauren Underwood (@LUnderwood630) November 14, 2018
The "Politics of Optimism"
Speaking of the future, in spite of how dire things may be, there is optimism in the air. One of the best articles to sum up this vibe appeared on GQ: "Beto O'Rourke's Politics of Optimism Are the Future of America." We were disappointed that O'Rourke didn't unseat Ted Cruz, but as a political presence…what an entrance he made! As the article puts it:
After two years of being told that they should be afraid and angry, voters are looking for reasons to be hopeful about their country again. This brand of patriotic optimism terrifies people like Cruz, not only because the attendant enthusiasm puts their jobs in jeopardy, but also because they are painfully aware that they have no counterargument.
We can't wait to see what O'Rourke does next. He's one of many fresh, progressive faces making a splash on the national stage. The other key example of this is Alexandria Ocasio-Cortez. She's already looking to shake up those in the Democratic establishment who have coddled Trump. No more Mrs. Nice Girl. Trump isn't ready for a girl from the Bronx, as she said herself on The Late Show.
Keep it up, Divaland!
We cannot rest on our laurels even one second. Trump is still packing the courts with cronies and conservative nutjobs. Our country is still burning, and people are still suffering under his apathy. Trump and his allies are trying to undermine Mueller's investigation, especially now. The midterms have rattled Trump, and indictments seem to be forthcoming.
That's in part why they are pulling out all the stops to sabotage democracy in Florida and Georgia. GOPniks are making claims of voter fraud without evidence, all while trying to prevent many ballots (provisional and mail-in) from being counted. Candidates Stacey Abrams and Andrew Gillum have weathered a nasty election, full of racist attacks and voter suppression at the polls. We must still support their fight for a truly democratic election, whether it is decided in a runoff or in the courts.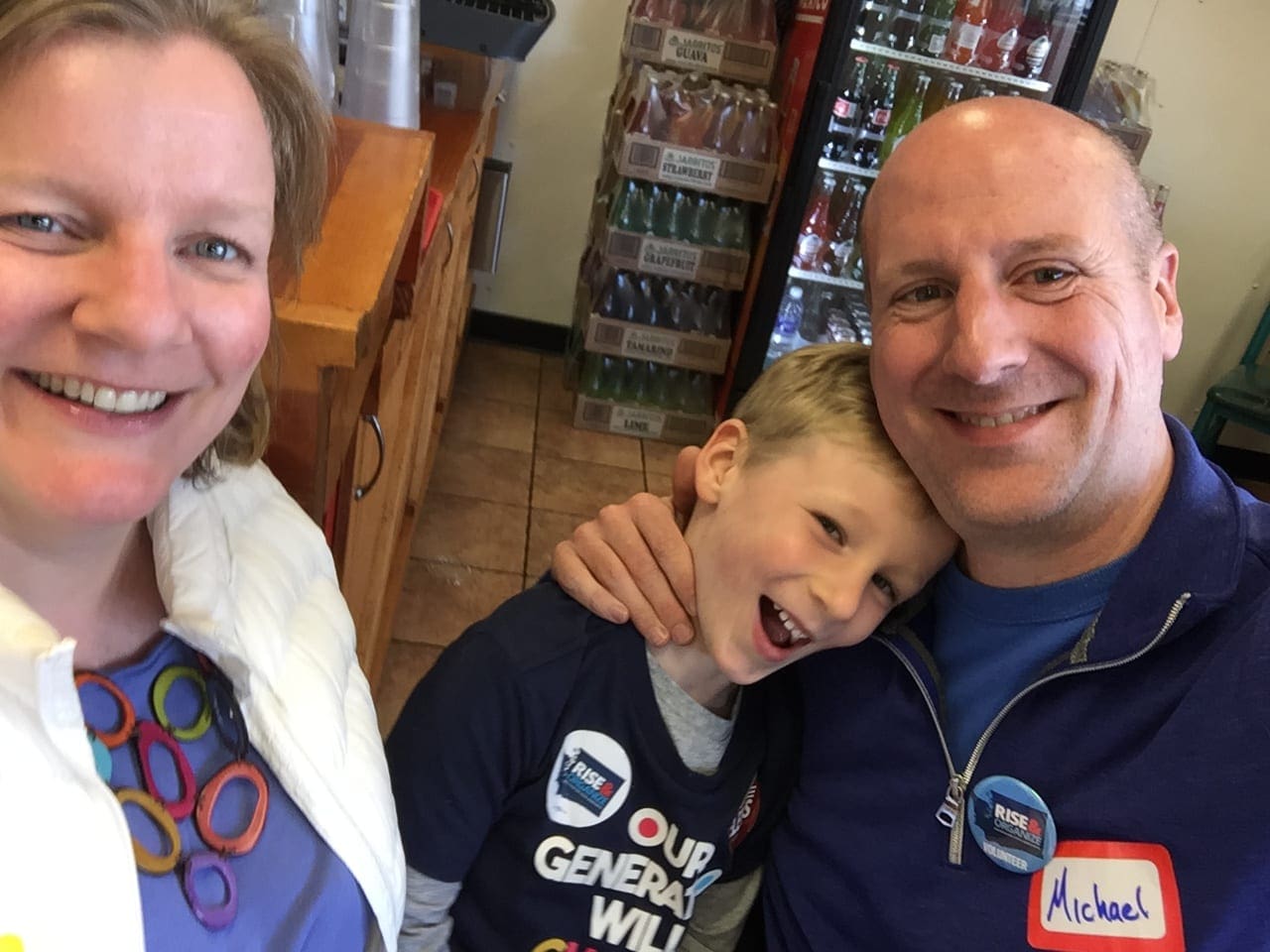 There will always be more reasons to make your voice heard, whether by contacting leaders directly or protesting in the streets. This isn't just about the present moment, but about future generations. The consequences of these elections will determine who has the power to react to climate change, disasters, and  changing demographics.
It can be daunting, but take this moment to celebrate, recharge, and dream of a better day. Happy early Thanksgiving, Divaland!
PS: Check out our annual Thanksgiving Day guide for tips on food, wine, and silent political statements.