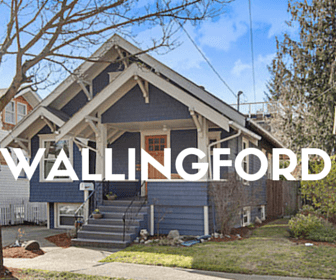 What's not to love about this adorable neighborhood? Shopping, eating, drinking, outdoors-ing, Wallingford has something for everyone. It's conveniently nestled just north of the ship canal, between Green Lake, the Woodland Park Zoo and the University of Washington and has been voted one of Seattle's top neighborhoods over and over. Discover this green-friendly, quirky, friendly neighborhood!
Live: Seattle Tilth has been educating people about sustainable, local food systems for decades. Located in the Good Shepard Center, this is the resource for all things green in Seattle.
Work: Check out Wallingford Center for all the things you need and many things you don't. Right in the heart of the business district, Wallingford Center has over 17 local and regional boutiques. From eyeglasses to health and nutrition needs, this is a one-stop shopping center!
Play: Gasworks Park is one of the most photographed parks in the Seattle area. The massive coal and gas machinery look straight out of a steampunk film and are fantastically juxtaposed against Lake Union and Seattle city views. It is the spot to be on the Fourth of July, and many other sunny Seattle summer days!
Hood Blog: Wallhood
Walkscore: 82