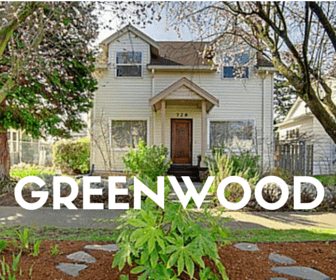 Diva Dweller: Ellen and Gibson
Nestled in the northwest of Seattle is the bungalow capitol of Seattle known as Greenwood. Living here, one definitely feels part of a tight knit and slightly quirky community. Anchored by businesses like Gordito's, Diva Espresso, Taproot Theater, and Greenwood Space Travel Supply Co, one can see this hood is alive and thriving. Greenwood Avenue, the main thoroughfare, is full of local cafes, pubs, antique shops, and unique boutiques. And let's not forget that Greenwood is hosts to the annual Greenwood Classic Car Show and the Greenwood Seafair Parade. This is a northwest hood anyone would be proud to call home.
Live: Greenwood is super-close to the Seattle favorite Green Lake Park, but you don't have to go that far to get out and enjoy some green space. Greenwood Park is a newer park, formerly a commercial nursery located at Evanston Ave and 87th. It's a perfect spot to bring a picnic, take the kiddos and enjoy a sunny Sunday afternoon.
Work: Greenwood is closer to the Hwy 99 route to downtown Seattle and easy access to the University of Washington.
Play: Greenwood is home to many a tasty beer drinkin' spot. Check out Naked City Brewery, Chuck's Hop Shop, or The Yard Cafe are all just a hop, skip and a jump from one another and will give you plenty of variety of hops and malts to suit your fancy.
Local Blog: PhinneyWood