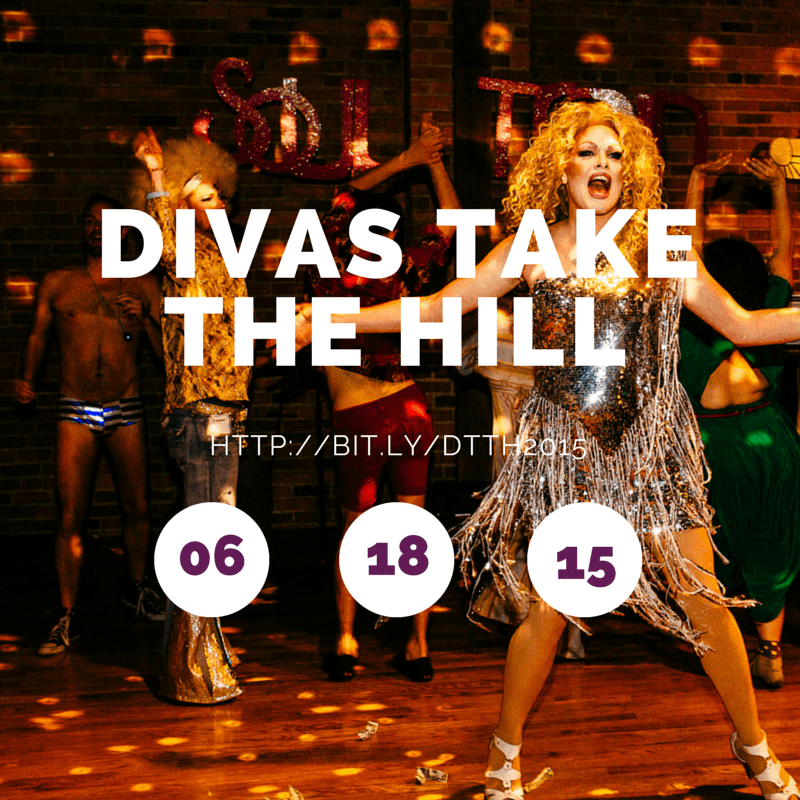 Save the Date Diva Dwellers and Divotees – Divas Take the Hill is June 18th at the 12th Avenue Arts Building. Divas Take the Hill was born five years ago as the brain child of Team Diva Real Estate, Retail Therapy, and Toys in Babeland. Five years ago we were in the throws of the recession and wanted to do something to give a stage to our favorite Divas, raise money for a good cause, and kick off gay pride old school style. We hosted the very first Divas Take the Hill inside Retail Therapy. We raised just a smidge over $1,300 for Three Dollar Bill Cinema. Jinkx Monsoon spilled some booze down the stairs. DonnaTella was not even a princess yet in the Imperial Court System. And Miss Kitty let me park her car. Swoon!
Five years later we have raised over $10,000 for Marriage Equality, Three Dollar Bill Cinema, Rise and Shine, and one of our favorites PSKS. Kim and I come from a advocacy background. We feel strongly that a healthy non profit community is good for Seattle and for Capitol Hill. So this is our little part to bring the gay back to the Hill. Raise some money for a good cause, and see our glitter family DonnaTella, Miss Kitty, and Sylvia O'Stayformore shine on a Diva stage.
Divas Take the Hill has become the premier Gay Pride Kick Off party on Capitol Hill. It is your only time you can see the city's best drag, burlesque, and GLBTQ talent in ONE spot before they hit the road entertaining the masses in the Pacific Northwest. This year all of the proceeds from the event go directly to PSKS. We may have gay marriage in Washington State but kids are still being kicked out onto the streets by their parents because they are gay, queer, questioning, or escaping a really horrible family situation. It is not right and we need to do something about it!
PSKS is on Capitol Hill helping our younger community get their GEDs, being a safe place to come and finally be themselves, and they finally have an overnight program. PSKS is really one of the few spaces that is created by the kids on the streets for kids on the streets. Their model has helped hundreds of kids over the years overcome hardship that many of us will never know. All of their programs are focused on the kids and not on our own rigid standards of what these kids "need". One of the big projects we are excited about is PSKS new overnight program. There are very few places a young person can go in this city to be safe. And a personal fav, is that they allow the kids dogs to spend the night with them in their overnight program. No pooch is left on the street!
Let's raise $5,000 for PSKS this June and bridge the gap for our younger Diva Dweller community!
Event Details

Looking forward to you and your glitter gear on June 18, 2015 at Divas Take the Hill!