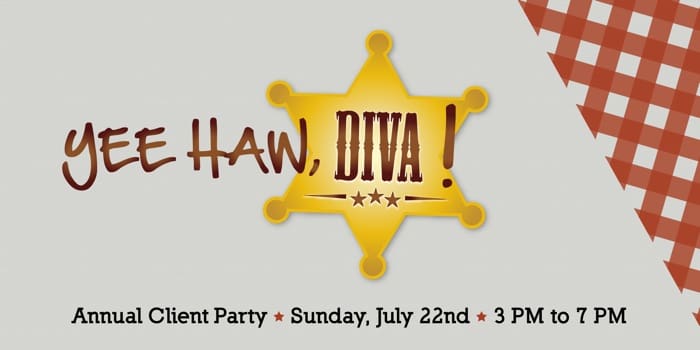 Dig out your spurs and your cowboy hat and head on over to Ranch Diva for a grand ol' Western Hoedown on Sunday, July 22nd! Once a year we like to get together with all of our Diva Dwellers and Divotees to celebrate what makes Team Diva fun, exciting, and special – that is to say, we want to celebrate all of you! So stop whatever you are doing right now and mark the Diva Western Hoedown on your calendars, RSVP on Facebook, and start planning that perfect plaid and denim outfit. Reschedule plans with other outlaws, skip out on the saloon hopping, flake out on hanging out at Lake Washington watering hole 'cause its time for the best summer BBQ in all of Seattle - Do It Like Dolly For The Diva Hoedown!
Day:Â Sunday
Date:Â July 22nd
Time:Â 3:00-7:00 PM
Theme:Â Diva Western Hoedown
Provided:Â Fabulous Food, Delicious Diva Drinks, Scintillating Conversation & Music, Music, Music
Bring:Â Other Diva Divotees, Future Diva Dwellers, Wannabees, Friends, + Ability to Have a Darn Good Time!