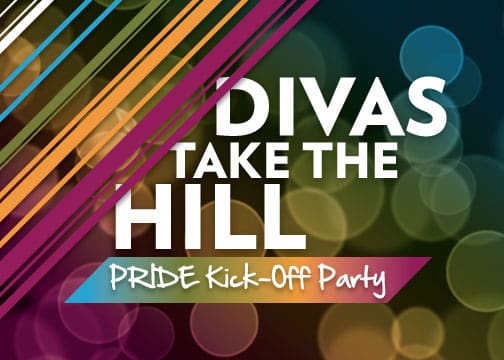 The day you have all been waiting for has finally arrived! Divas Take The Hill will be happening tonight beginning at 7:30 at Velocity Dance Center. Tickets can be purchased in advance HEREÂ until 4:00 PM and then will cost $15 at the door – but remember, all proceeds go to support Washington United for Marriage, so if you wanna kick in that five extra bucks, do it! Also, if you pay at the door (and if you are planning on getting drinks or raffle tickets), all payments are CASH ONLY, so remember to stop by an ATM on your way. Can you even think of a better way to celebrate and support Gay Marriage in Washington State than to spend your evening watching everything from drag, to burlesque, to a fashion show? NO! All of this performance art, accompanied by raffles, games, nibbles and everything else you could ever expect from a Diva event. We hope to see you and all your friends there tonight to celebrate the beauty that is Gay Marriage!
$10 in advance (until 4:00 PM) $15 at the door, $5 drinks, $5 door prize raffle tickets!
All payments for tickets at the door, drinks, and raffle tickets must be paid in cash
All proceeds goes back to the LGBTQ Community supporting Gay Marriage in Washington State

Divas Take The Hill
Date:Â Thursday, June 14th
Location:Â Velocity Dance Center
Doors Open:Â 7:30 PM
Buy your tickets HERE (link closes at 4:00 PM)

Hosted by Miss Gay Seattle XLVIII DonnaTella Howe
With Performances by Miss Kitty Baby Burlesque, 2012 Nubian King & Queen Dom Dior & LaSaveona Hunt, Raja Kelly of the Feather Theory, DJ PBear, + More!
Sponsors and Event Organizers – Team Diva Real Estate, Studio 5 Design, Babeland, Retail Therapy, Vino Verite + Cellar Door Mercantile!