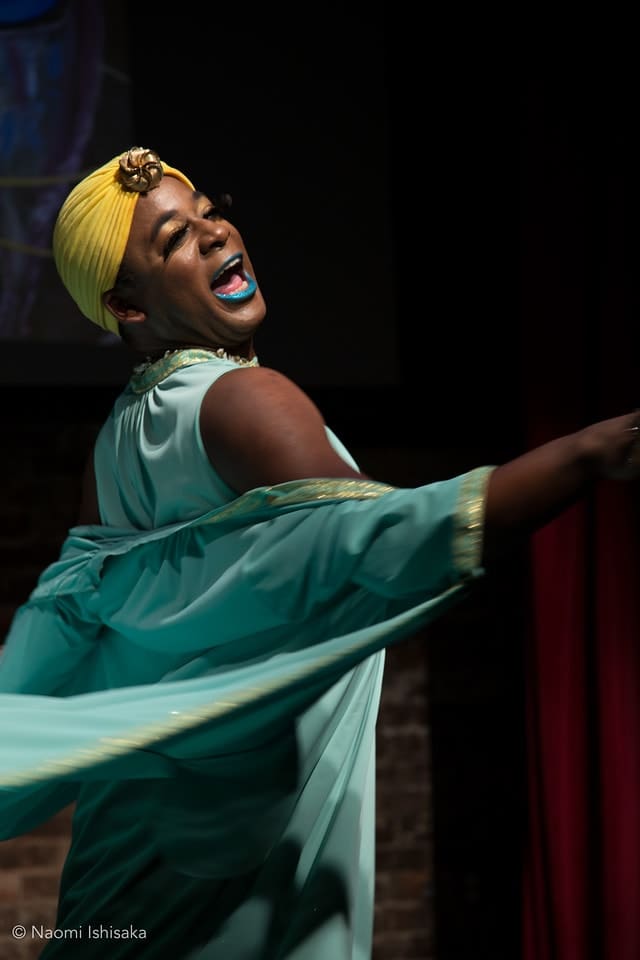 We love drag, we love burlesque, we love dance – The Lady B does it all! More so, we love finding new fabulous talented individuals who are doing their best to help our community and The Lady B is doing just that in and around Seattle. We are oh so excited to have her joining us as one of our newest performers for Divas Take the Hill. Don't miss out on seeing and meeting this fantastic individual while supporting PSKS!
The Lady B is Seattle's Première TransFabulous, Femtastic, Draglesquing, Sass-
Mouthing Negro. She is a visceral storyteller, performance artist, community
organizer, activist, Twerkshop facilitator, and graduate of Middlebury College. She
investigates how politics are projected onto and performed through the physical
body through the lenses of race, sexuality, orientation, gender, and ability –
responding through the performance mediums of burlesque, original choreography,
Drag, and the spoken word.
The Lady B began her dance training (twerking, krumping, and winding) on the inner-
city streets corners and basement parties of Cleveland, Ohio. Coupling these
physical dialects with the New Age Buddhist practice of movement as meditation
(Sacred Arts Holistic Center), she pursued the study of modern dance and political
science at Middlebury College (Class of 2013). Combining rigorous academic
discipline with best practices of community development, she creates healing
environments on and off stage for victims of oppression – marginalized and
historically underprivileged identity groups. In this work, The Lady B also invites
people who identify with historically privileged groups to also contextualize
themselves in order to make informed decisions about how they wish to engage
with communities and the larger political society.
She serves on the Board of Directors for Ingersoll Gender Center which provides
training concerning and peer support group facilitation for trans and gender-
variant people. She also serves on the Board of Directors for Lily Divine Productions,
a non-profit production company serving the queer community through event
production, grant funding, mentorship and artist development. The Lady B is a
member of the Maison de la Bête (community engagement- centered Drag House),
an active member of the Seattle Burlesque community, an independent event
producer and hostess, movement teacher, and public speaker (TEDx Middlebury-
Voice and Vulnerability: Healing the Scars of My Political Body).
In dedication to honoring intersectional identities as a social scientist, trans
(cendant) person, and feminist, The Lady B is dedicated to the healing force of the
creative process, intentionally dismantling structures of systematic oppression, and
being open to curiosity. The ultimate goals of her work are to engage, to connect,
and to empower.
Don't miss the party! Divas Take the Hill is Thursday, June 9 at Velocity Dance Center in the heart of Capitol Hill. Get your tickets online!