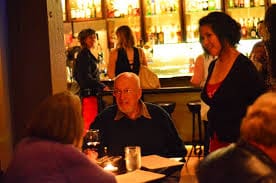 Yes the Divas have only been in our new location in Capitol Hill's Pike/Pine corridor for just over a week or so. And boy have we fallen head over heals in love with Pettirosso. First off they make doggie biscuits that new puppy Hollis loves to pieces. Second their food is Effing awesome. Don't even get me started about why I love their ice tea in the afternoon and cocktails say around 6:00ish. And just when you think it cannot get any better – how about a tower of carrot cake or their scrumptious smores dessert.
Last Friday night we spent a lovely evening with Roy the Rent Guru hatching our plans to take over  Seattle's real estate rental market. It felt like old Capitol Hill again. Warm summer night. I vaguely recognized everyone on the street. And was able to watch the glory that is Pike/Pine's bridge and tunnel Friday night crowd from a safe distance.
Go and love up this awesome spot tucked around the corner from the Wildrose run by two awesome sisters from New Mexico.