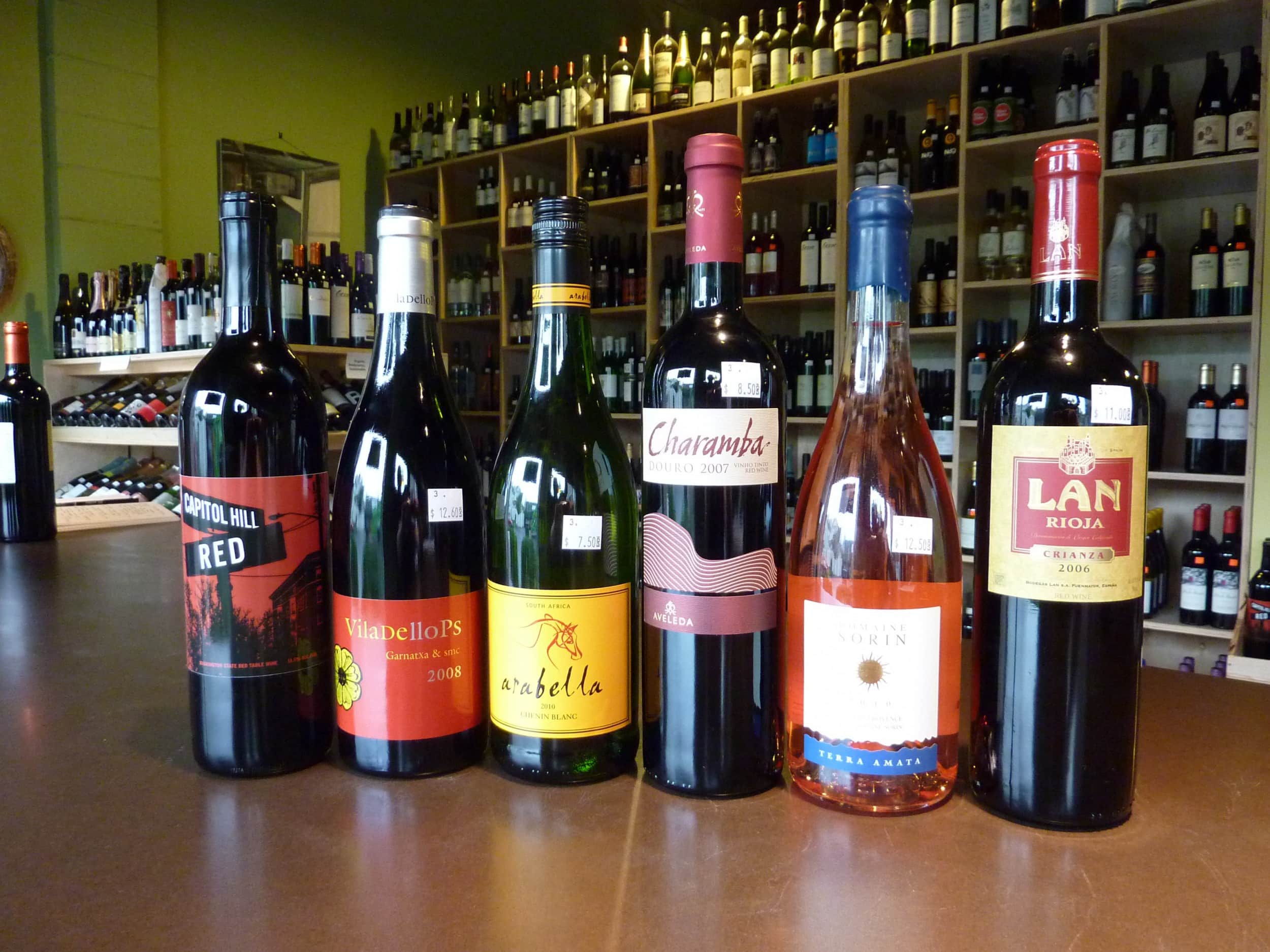 This Diva is ready to be honest about her addiction. I am a hoarder.
Now, some girls hoard shoes, some purses, some vintage designer jewelry. I – Diva Kim – hoard wine. I can spend hours perusing the isles of my favorite wine stores in search of Walla Walla Reds, Russian River Zins, French Chablis – and let's not talk about Champagne. But, like everyone else, the recession has put a bit of a damper on my wine hoarding. On top of that, us Divas love to entertain, which means there must always be a hefty stash of decent wine on hand for any and all occasions. This calls for desperate Diva measures – budget wine shopping!
OK – I know we all have stocked up on cheap discount wine from  Trader Joe's and Costco when need be. But, for us wine geeks who are used to scouring the K & L website for the most obscure bottle of Pomerol or "must have Cali Cab", there is no thrill or joy in picking up a case of Kirkland's Signature (insert wine varietal here)  just so you fill some thirsty wine glasses.
Basically – it is now all about "the hunt!" Where can I find the best $6.99 Malbec or $8.50 Cab? I spend hours picking the brains of my fellow drinkers for their favorite cheapo wines and combing the isle for every good deal.  Let's be honest – taste is subjective. One person's "must have" could be another person's "two buck chuck." Bottom line – cheap does not have to mean boring or mediocre. If you know what you like, where to shop and what to ask for,  you will become a Diva of Vino in no time. There is a plethora of fabulous inexpensive wines out there waiting for you to enjoy that are are way more quaffable than those Alice Whites and Charles Shaws. Let's go find a bottle or two!
I stopped by to chat with one of our fav local wine folks, Dave, co-owner of Capitol Hill's Vino Verite. Here are some of his top picks for wines under (or around) $12 a bottle.
Dave's Picks
Summer is just around the corner so let's start with a nice Rose. Dave's suggestion: 2010 Domaine Sorin Terra Amata Rose – $12.50. A lovely fruity selection from the Cotes de Provence. I think of Provence as the mecca of delectable Rose. This wine is refreshing and perfectly balanced with floral and herbal hints. Delightful for a sunny afternoon of drinking.
Although I know most of y'all are red drinkers – there is always room for a good cheap white around the house. Dave found us this lovely wine from South Africa – Arabella 2010 Chenin Blanc – $7.50. In my book any wine that can be enjoyed for less than a latte and a scone is worth at least trying. This is a juicy wine with great acidity and crisp fruit – very easy to drink.
On to the reds. My new favorite – Capitol Hill Red at $12. The folks at Vino Verite have this wine made especially for them by Bonair Winery in Zillah, WA. Full-bodied, funky, bold, plummy and down right yummy! Scrap the Yellow Tail and pick this up the next time you need something to bring to a party.
Last on the list (for now) is a doozy of a wine from the Duoro in Portugal: 2007 Charamba Vinho Tinto – $8.50. Dave describes this wine as "interesting" – in a good way. Made from grapes that are most commonly used for Porto, this wine is young but easy to drink and finishes well with nutty vanilla notes. I have yet to try this one but I am adding it to the taste test list for sure.
Kick the cheap wine doldrums and pick up one or two of these great buys for your next event, dinner party or late night get together. The folks at Vino Verite are always happy to help with wine selections and they have tastings on Thursdays & Saturdays.  The tastings are now $5 but – if you buy wine at the tasting it will go toward your purchase and even better, all the money they make from the tastings will go to a different charity each month. This month and next month the money will be donated to the Red Cross efforts in Japan.  Stop by for a chat and  some wine sometime and tell them Team Diva set you!
Join me – Diva Kim – on my next wine hunting adventure when we explore the back room at Esquin Wine Merchants in the SoDo District.
Ciao for now and happy wine hunting!