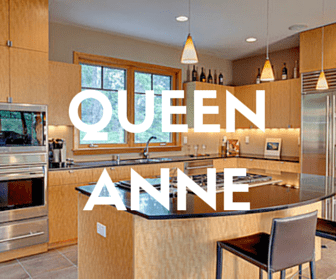 Diva Dwellers: Holly & Dave
Diva Dwellings: The Seaview Studio with a View
Nestled on Seattle's second tallest hill, this neighborhood has killer views of the rainy city. This hood offers a little bit of something for everyone. Lower Queen Anne, home to the Seattle Opera, Pacific Northwest Ballet, On the Boards, and a host of other organizations for the arts, attracts young, bustling culture junkies of all kinds. Picturesque Upper Queen Anne, on the other hand, runs at a much slower pace, with tree-lined streets and beautifully manicured residences. The mix of modern and historic architecture also lends to the distinct, charming, and eclectic character of the area.
Live: Kerry Park has one of the most picturesque views of the city, Elliott Bay and Olympic Mountains in Seattle. It's a perfect place to soak up some summer sun!
Work: The Bill and Melinda Gates Foundation and The Seattle Center are right in the heart of Lower Queen Anne. Head over to the north side of Queen Anne Hill and Seattle Pacific University holds down the fort.
Play: Unplug, reconnect and unwind at Blue Highway Games Beer and Board Games Night.
Hood Blog: Queen Anne View

Walkscore: 93