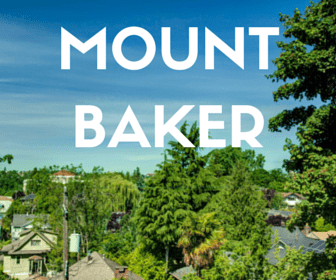 Diva Dwellings: Mount Baker Craftsman Charmer
Nestled up against Lake Washington, Mt. Baker is one of the most neighborly of neighborhoods in all of Seattle. Spanning from Rainier on the West, this hood is full of classic craftsmen spanning the sloping landscape down to the lake shore and overlooking the Olympic and Cascade mountains, including Mount Baker in the distance (never would have guessed!). A gathering ground for both families and single peeps of all ethnicities, this neighborhood is über diverse, which is not surprising when you realize it is super cozy with the most diverse zip code in the entire nation. One of the most scenic hoods in the city as well, Mount Baker offers miles of lakefront parks that are perfect for walking, biking, running, or just lounging around.
Live: The Mount Baker Community Clubhouse organizes events year-round for this tight-knit community, from fitness days, to bingo nights, to community potlucks.
Work: Mount Baker is super accessible to I-90 and I-5. The Link Light Rail provides easy access to downtown and SeaTac.
Play: Mioposto is a superb neighborhood hangout. Grab a coffee, lunch or dinner, or a glass of wine. The restaurant is lined with ginormous windows that open when the weather is warm. Just across the street Mount Baker Park stretches down to the Lake and the swimming beach. Talk about a perfect Saturday afternoon!
Hood Blog: mountbakerseattle.com