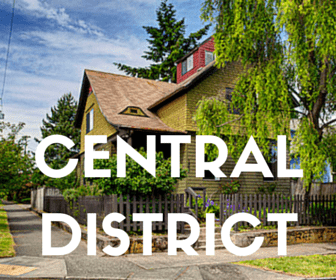 Diva Dwellers: Kitsy and Janko
Central District (or the CD as it is called by locals) is one of the oldest and most diverse neighborhoods in Seattle. This is a community teaming with an eclectic mix of residents and architecture, where modern designer dwellings sit next to beautifully restored turn of the century homes. There is a long history of activism out of this neighborhood going back to the Jazz Era, through the Civil Rights and more recently with immigration rights issues. We love walking through this hood and stumbling across Ethiopian restaurants next to BBQ spots across from hipster hangouts. The Central Area is truly one of the most active and organized hoods in Seattle. The CD a perfect place for any urbanite to call home!
Live: Garfield High School is nationally renown for their accelerated progress program, and is ranked as one of the top high schools in Washington State.
Work: Walk to work at Seattle University, perched at the edge of the Central District and First Hill. UW is just a straight shot north on the #48 and downtown is a quick ride on the #3 or #4.
Play: Take the kids and the four-legged's to Chuck's Hop Shop CD. Grab a bit from the food truck, sample one of their 50 beers on tap and relax in the sun.
Walkscore: 88
Hood Blog: Central District News