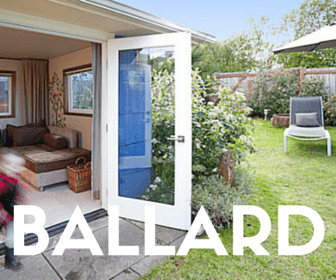 Diva Dwellings: Darling Ballard Bungalow
Diva Dweller: Kim and Mark
Going North on 15th Ave West you will drive right into the heart of one of Seattle's oldest and most historically-fueled hoods. Ever noticed those "Free Ballard" stickers and t-shirts? Well, Ballard used to be a city all it's own before being annexed by Seattle at the turn of the last century. Change is hard. Some people are still not happy about it. Ballard's Scandinavian fishing roots continue to show and add to its unique European feel. Trendy cafes, boutiques, old school music joints and family-owned restaurants line the streets of Ballard, making it a popular destination for Seattle natives and travelers alike.
Live: Ballard is home to one of the most well-known Farmers Markets in town–and one of the few open year round. Every Sunday afternoon Ballard Avenue is closed to traffic and local food vendors, artisans and folks from all over the city take over the street.
Work: Ballard is tucked in the Northwestern corner of the city. However, it has a remarkable number of transit lines to get you just about anywhere in the city. Shopping at Northgate? #40. Heading to the University District? The #44 will get you there. The new RapidRide D line will get you into downtown fast, or hop the 15, 17, or 18 .
Play: Often noted for being the home of the Ballard Locks, this hood is also the residence of the Carl S. English Jr. Botanical Garden and Golden Gardens Park, some of the city's most alluring natural settings.
Hood Blog: My Ballard